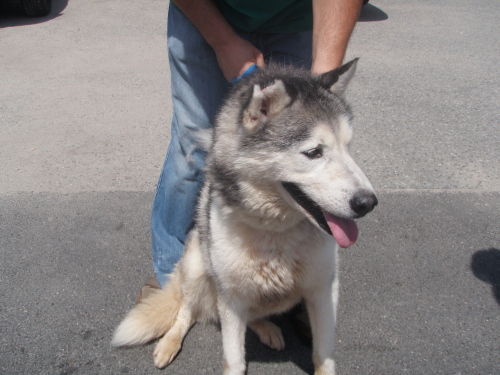 Thunder-URGENT!!
Adult Male Siberian Husky / Mixed
This pet is no longer available for adoption.
"Courtesy Posting" Thunder in in URGENT NEED OF A FOSTER HOME! He is a 5 year old black and white siberian husky boy. He has one blue eye and one parti-eye with half blue and half brown. He is very sweet but is in URGENT need of a foster home. True to the breed he is a pro at escaping so he would need a foster home who really understands his breed. Would do best in a home with no other animals but he does get along with his sister. He really just needs someone who understands the breed and knows they need a lot of exercise. He is a very active boy and given the right attention could make someone a very happy addition to the family. He is in Urgent Need of A Foster Home because he can not be kenneled and is in danger of being put to sleep very soon if no foster of perminent home is found. Thunder is an extremely sweet boy please consder opening your heart out to him. Please note, that at this time, Husky House does not adopt out of the immediate NY/NJ area. The minimum age for adopters is 23 years old. You must reside within a one hour drive from either NYC or from Bridgewater NJ. We DO NOT do long distance adoptions because we do home visits prior to the pup going to its new home. We do not adopt out Siberian puppies (under 1 year of age) unless you have prior Siberian experience. We DO NOT place in homes that rely on the invisible/electric fence as the sole means of containment. If your yard is fenced in - your fence must be at least 5 feet tall. Online Adoption Application Website: http://www.huskyhouse.org
Up to date with vaccinations
Not good with kids!
Not good with other dogs!
Not good with cats!