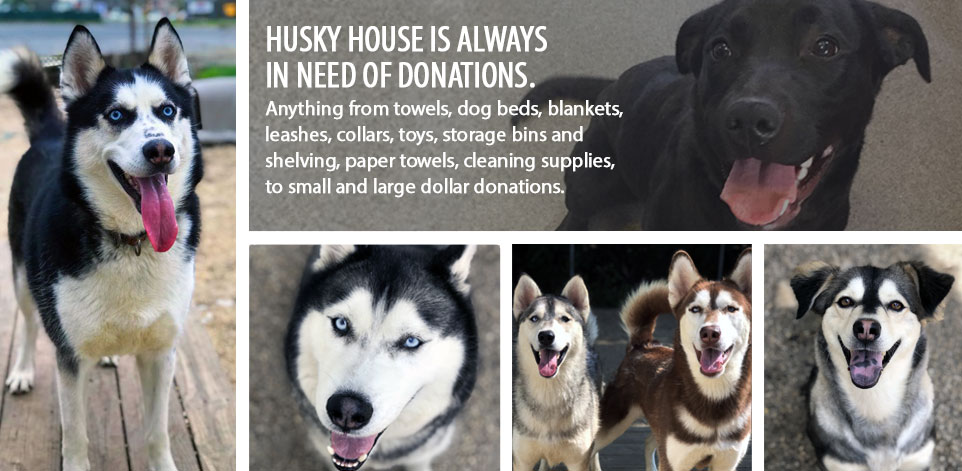 Donate By Mail
Husky House
391 Route 34
Matawan, NJ 07747
Potential Adopters Please do not use this form to submit your application donation. Please follow the donate button instructions at the end of the application process.
Help Support Husky House
Lorraine Healy, owner of Husky House, grew up with Labs when she was a child. If only her parents would have allowed her to have a husky she would not have been as obsessed with huskies, although she loves all animals and has given many animals a second shot at life. Moving out at the age of 18, she went to FIT, specializing in buying and merchandising. She was able to get her first huskies, Baby and Tundra. When she got her first computer, she read about every rescue Husky story across the country and realized there was a big issue going on. At that time she decided to volunteer for a rescue based out of MA, "Angels of the Snow". They no longer exist. She did this for about a year and then decided at the age of 27 to start "Husky House". The first shelter she walked into she brought home ten dogs, and placed them with friends and her own home. She then realized that she was going to need a home for these dogs. Lorraine has always had a soft spot for all dogs that have special needs, the ones that are discarded by puppy mills because they cost too much, or no longer have any use. She has taken on many dogs that are "owner surrendered". She does this on a daily basis. She has now gained international attention. Rescue organizations across the entire world reach out to her. Huskies from Iran and Saudi Arabia are flown in.
Husky House needs funding desperately. There are no grants or state funding. Husky House runs on charitable donations. If Lorraine won the lottery, she would buy the building they are in, renovate the kennels.
Husky House needs help! Here's why!
During the summer months, the electricity bill can be over $3500 dollars to keep all of our Siberian Huskies and other dogs cool.
The rent is $5800 a month for all the kennels and yard space.
Husky House's gas bill can range from $200 in the summer to $900 in the winter months.
Ongoing vet care for all of our dogs. We have a vet bill hovering over 100,000 dollars all the time.
Husky House's insurance/liability costs $250.
Car and Truck insurance is $450 a month for commercial liability.
As you can see, it takes quite a bit of money to keep Husky House going, We need your help, especially now! Please donate whatever you can, whatever amount you can afford. Every little bit helps!Thank you!
---
---
---
---
Give The Gift Of Comfort, Donate a Dog Bed!
Give the gift of comfort to a shelter dog. Your bed donation will make a world of difference to them.
To donate please visit www.kuranda.com
---
The Cognac Fund
"COGNAC"
I found you in a shelter, A stray from Staten Island
A red and white Siberian as precious as a diamond
I found out rather quickly that you were very ill
It didn't matter much to me, I'd always love you still
I remember the first seizure, then you began to cry
I held you in my arms & promised to be forever by your side
Epilepsy is what it was, Now I know it all too well
It took you from me way too soon, so your story I will tell
I never will forget you, although we are apart
My goofy buddy Cognac, who etched his paw prints in my heart
I'll help the others like you whose fight has just begun
Established in your memory, I'll start The Cognac Fund
In Memory of our sweet boy, Husky House has started The Cognac Fund. This fund will help other Siberians fighting this horrible disease called Epilepsy as well as other life threatening diseases.
For more info on The Cognac Fund email Lorraine Healy at TheCognacFund@aol.com.
Husky House would like to thank two very special people who were always there for Cognac.
Angelo Mone...who adopted Cognac as well as his best friend Kyra and provided a wonderful loving home. Angelo, Kyra and Cognac had a wonderful Happy, Healthy seizure free summer. We wish it would have lasted longer! :(
Dr. Jason Berg, Cognac's Neurologist. Not only is he a great doctor he is also great guy! You never gave up on our boy. Thank you for giving Cognac a happy summer!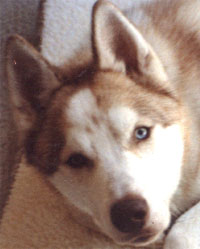 Cognac 2001 - 10/8/2003
As the tears flow I write the email I hoped would never come...our beloved Cognac has crossed over the Bridge today. He was just a baby...2 1/2 years old. At about 1 pm this afternoon we peacefully helped him drift away in my arms. Cognac will always hold a piece of my heart and no one will ever forget him. Run free my boy...wear your silver harness proudly and we will meet again in time.
Lorraine
Husky House, Inc.