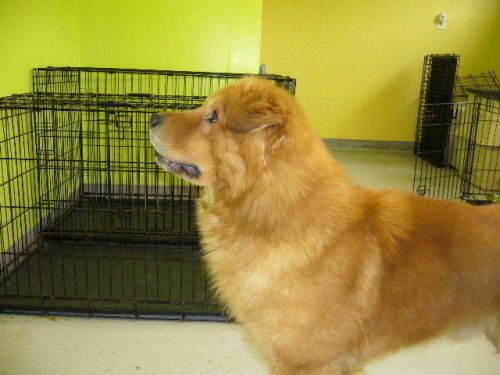 Gonzo
Young Male Chow Chow / Golden Retriever / Mixed
This pet is no longer available for adoption.
COME& MEET ME this Sunday, 4/6/08 at a huge adoption event at Club Barks, West Paterson, NJ from noon-3PM, visit www.clubbarks.com for directions! Meet the Houses newest guest, Gonzo! He received this name because he has the most beautiful fuzzy coat, just like a Muppet. Gonz was found wandering around in Paterson, is approximately 1 to 3 years of age and seems to be an absolute sweetheart of a dog who loves his belly rubs! However, we have not been able to fully test him, so at this time, we do not know if he's good with other dogs or cats. Unfortunately, when Gonzo went to the vet, we did discover that he is heartworm positive, and will not be available for adoption until his treatment is finished and we can assure that he is in good health. He will ne neutered, microchipped and completely vetted prior to adoption, if you would like to meet this pretty fluffy boy, please visit our website to fill out our online application, at www.huskyhouse.org. Please note, that at this time, Husky House does not adopt out of the immediate NY/NJ area. The minimum age for adopters is 23 years old. You must reside within a one hour drive from either NYC or from Bridgewater NJ. We DO NOT do long distance adoptions because we do home visits prior to the pup going to its new home. We do not adopt out Siberian puppies (under 1 year of age) unless you have prior Siberian experience or have researched the breed thoroughly. We DO NOT place in homes that rely on the invisible/electric fence as the sole means of containment. If your yard is fenced in - your fence must be at least 5 feet tall. Online Adoption Application Website: http://www.huskyhouse.org
Not good with kids!
Not good with other dogs!
Not good with cats!