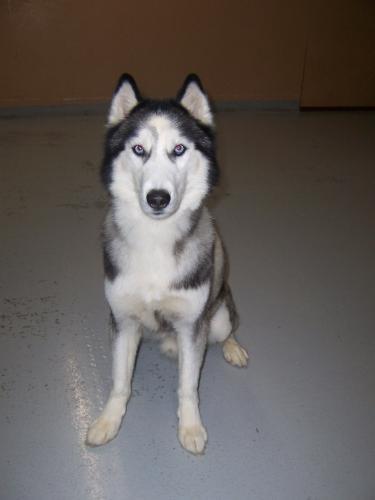 Diego
Young Male Husky / Mixed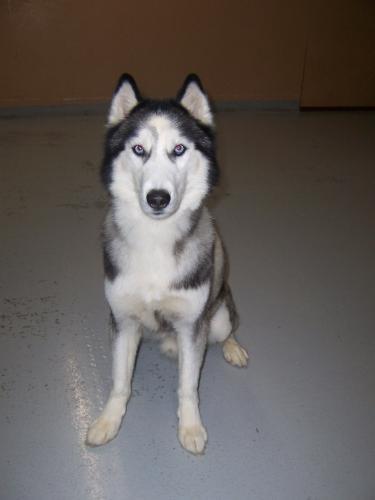 This pet is no longer available for adoption.
Meet Diego, a sweet ,"talky" Husky boy, who likes to rub up against you like a kitten and almost purrs like one too! Diego is a beautiful black and white with blue eyes, and is on the smaller side for a Sibe, approximately 45 to 50 lbs. and gets along well with other dogs. We are looking for a dog experienced home for him, as his experience in the shelter was not a good one, the kennel worker who was in charge of taking care of this sweet boy was caught beating Diego, so Diego had learned to defend himself against the abuse. He is however doing wonderfully with training and is learning to trust the humans around him again, and there has been no signs of the fear that we saw when he first came to us. Once he knows and trusts you, he will wrap himself around you to show his affection. We know Diego's special forever home is out there, won't you please give this pup another chance at a great life? Please note, that at this time, Husky House does not adopt out of the immediate NY/NJ area. *The minimum age for adopters is 23 yrs. old and you must reside within a one hour drive from either NYC or from Bridgewater NJ. We DO NOT do long distance adoptions because we do homevisits prior to the pup going to its new home. *We do not adopt out Siberian puppies (under 1 year of age) unless you have prior Siberian experience or have researched the breed thoroughly. *We DO NOT place in homes that rely on the invisible/electric fence as the sole means of containment. If your yard is fenced in - your fence must be at least 5 feet tall. Adoptions Application
Up to date with vaccinations
Not good with kids!
Not good with cats!