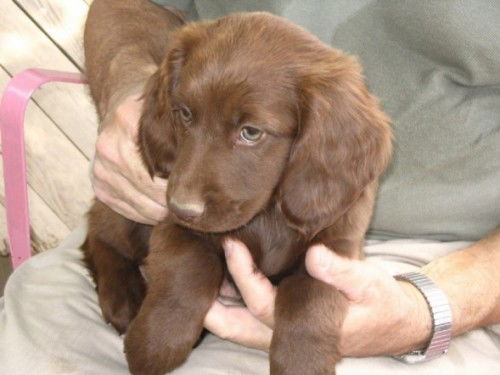 Fergie-ADOPTION PE
Baby Female English Springer Spaniel / Labrador Retriever / Mixed
This pet is no longer available for adoption.
ADOPTION PENDING--Fergie is an 8 week old baby spaniel mix puppy. Her father is a purebred English springer spaniel and her mother is a mix but looks like a lab/shepherd mix, medium sized and very intelligent and loyal. Fergie is tiny and sensitive with people and her littermates--she plays well with all of them and loves her toys and climbing apparatus in her yard as much as any of them. Fergie will do best in a home without small children because she does get very nervous and is a timid girl. Fergie will be ready to go home after she is spayed the 2nd week in July. She will also have had 2 rounds of vaccines by that time and will have been wormed thoroughly. She is a happy, healthy little girl who should make a wonderful all around pet for an understanding and involved owner. Please note, that at this time, Husky House does not adopt out of the immediate NY/NJ area. The minimum age for adopters is 23 years old. You must reside within a one hour drive from either NYC or from Bridgewater NJ. We DO NOT do long distance adoptions because we do home visits prior to the pup going to its new home. We do not adopt out Siberian puppies (under 1 year of age) unless you have prior Siberian experience or have researched the breed thoroughly. We DO NOT place in homes that rely on the invisible/electric fence as the sole means of containment. If your yard is fenced in - your fence must be at least 5 feet tall. Online Adoption Application Website: http://www.huskyhouse.org
Up to date with vaccinations
Not good with kids!