Ways to Help
The areas we need help with to run The Husky House and The Snowdog Lodge successfully are described in the table below. If you have a special interest or talent that is not listed but you think would benefit Husky House, please let us know.
Snowdog Lodge
Mon - Sun
9am - 2pm, 3pm - 6pm, 6pm - 8pm
Feed and provide clean water
Clean kennels and bowls
Playtime in yard
Clean lobby
Laundry
Walk dogs that are restricted from playtime
Bathing and grooming
Socialize Dogs
You must be at least 16 years old to work in the lodge
Adoption Counseling
As Needed
Assist potential adopters with paperwork, answering questions
Screen applications
Coordinate home visits
Good communication skills required!
Marketing/PR
Ongoing
Distribute flyers for the lodge and events
Educate the public about our mission
Good communication and written skills required!
Grants
Ongoing
Knowledge of/experience in grant writing
Adoption Events
As Needed
Help transport pets
Stay at event and answer potential adopters' questions
Good communication skills to talk to public
Fundraising Events
Ongoing
Event planning
Reserve venue
Solicit sponsors and prizes
Sell tickets
Good communication and written skills
Transport
As Needed
Provide transportation to/from Lodge for vet visits, adoption events, media events, from other facilities
A vehicle and current drivers-license
Foster Care
As Needed
Provide a home, love and care to a dog who needs time to learn in a safe environment
Love and patience
Administrative
As Needed
Send thank you notes to our donors and sponsors
Good communication and written skills
Donations
Ongoing
Monetary donations
New/used leashes & collars, dog beds
Dog food, treats, bones & toys
Blankets, towels, cleaning supplies, bleach, paper towels
Generosity
Frequently Asked Volunteer Questions
How do I volunteer?
Complete your volunteer application. Once we receive your application our Volunteer Coordinater will contact you.
After you have been accepted, you will be given a Volunteer Agreement/Waiver that must be signed before you can begin. If you are under 18 years old, you must have a parent or legal guardian sign the agreement as well.
Attend the next Volunteer Orientation Session. The Volunter Coordinator will contact you with the dates and times.
Attend additional training classes as required for specific activities.
Please understand that completion of this application does not assure placement.
Husky House fills the positions and time slots that are needed. Accuracy and completeness of this form are important in determining the acceptability for a volunteer position. You may be asked to submit additional references and participate in additional interviews, all of which are considered part of the qualification process. All pre-placement inquiries are made for the purpose of establishing the best fit for you and Husky House.
If you have any questions regarding Volunteering or your application please contact our Volunteer Coordinator at HuskyHouseinc@gmail.com.
What Volunteer opportunities does the Husky House offer?
The areas we need help with to run The Husky House and The Snowdog Lodge successfully are described in above. If you have a special interest or talent that is not listed but you think would benefit Husky House, please let us know.
Thank you for choosing to donate your time to Husky House. We appreciate your support!
Meet some of our volunteers!
Gloria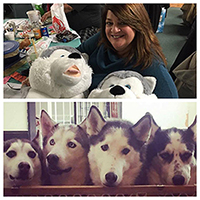 I am owned by four Husky House rescues. Denali was my first Husky House dog, adopted in 2007, followed by Savannah in 2008, Stryker in 2013 and Sydney in 2014. I've fostered over 100 huskies and each one takes a piece of my heart. My happiest moment is when a dog finds their forever home. "Saving one dog won't change the world, but the world will change for that one dog."
Jules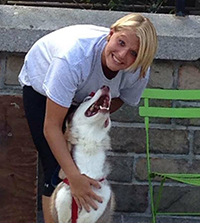 My name is Jules. I have been volunteering at husky house since November 2011. Many people ask me why I volunteer and I tell them it is because I love animals, especially dogs. The best part of volunteering is being able to meet new dogs every week. Every week I get to work with different dogs and get to know their personalities. It is very rewarding to see these dogs go into their new loving forever homes. I enjoy working with the other volunteers. We work together to find these dogs the perfect home. I do encourage more people to volunteer at this awesome rescue.
Valerie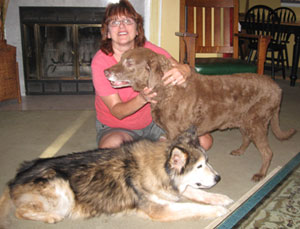 I've been with Husky House since February, 2012. My favorite story is actually when I just see any of the dogs get a forever home. I have many favorite qoutes but I really like - "Life is what happens to you while you're busy making other plans." by John Lennon. In my spare time, I like to go to yard & estate sales, garden, decorate & go hiking. I am pictured here with my 13 year old Chesapeake Bay Retriever, Nellie and my Husky House pooch Woody.
More bios of our tireless volunteers will be available soon!