Volunteer Bios
Gloria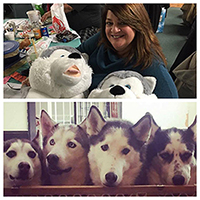 I am owned by four Husky House rescues. Denali was my first Husky House dog, adopted in 2007, followed by Savannah in 2008, Stryker in 2013 and Sydney in 2014. I've fostered over 100 huskies and each one takes a piece of my heart. My happiest moment is when a dog finds their forever home. "Saving one dog won't change the world, but the world will change for that one dog."
Jules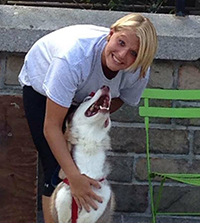 My name is Jules. I have been volunteering at husky house since November 2011. Many people ask me why I volunteer and I tell them it is because I love animals, especially dogs. The best part of volunteering is being able to meet new dogs every week. Every week I get to work with different dogs and get to know their personalities. It is very rewarding to see these dogs go into their new loving forever homes. I enjoy working with the other volunteers. We work together to find these dogs the perfect home. I do encourage more people to volunteer at this awesome rescue.
Valerie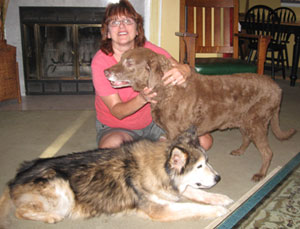 I've been with Husky House since February, 2012. My favorite story is actually when I just see any of the dogs get a forever home. I have many favorite qoutes but I really like - "Life is what happens to you while you're busy making other plans." by John Lennon. In my spare time, I like to go to yard & estate sales, garden, decorate & go hiking. I am pictured here with my 13 year old Chesapeake Bay Retriever, Nellie and my Husky House pooch Woody.
More bios of our tireless volunteers will be available soon!